Bizarre / Role-playing games in Vienna
21 Sedcards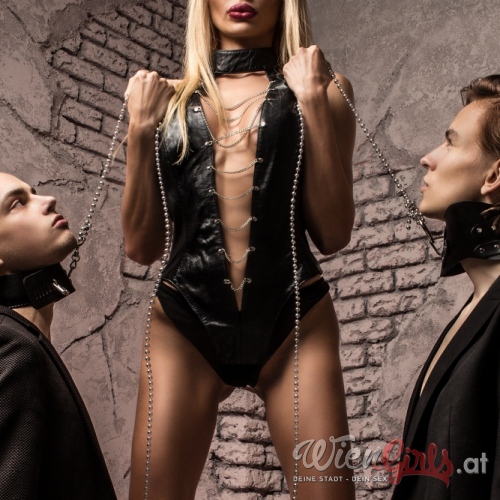 The stage that means the world: Once you've tasted acting, you almost always want to return to the stage. But even if you are more inclined towards performances in an intimate, private circle, you will still get your money's worth.
Bizarre changes and role-playing games open the doors to new worlds and allow people to completely reinvent themselves erotically and sexually. What would it be like to take a closer look behind the curtain?
How well do bizarre changes and role-playing games and feelings of power go together? Since bizarre changes and role-playing games originally come from the fetish and BDSM context, they are perfect for living out a clear sense of power. Whether the focus is on D/s – or S/M combinations is up to the players. There is no fixed script for bizarre changes and role-playing games, although some character constellations are particularly popular.

Incidentally, although the desire for such performances of a special kind often comes from men, women are by no means less creative when it comes to the actual design. On the contrary, they are often the ones who breathe life into the scenery with remarkable ideas. And yes, sometimes bizarre changes and role-playing even make you smile. The only question is who laughs the loudest at the end ... Bizarre changes and role-playing games: Which variations are the most popular? As already mentioned, it is usually the difference in position that makes bizarre changes and role-playing games so appealing. The motto is often "the less the sub has to say, the better".
Teacher and schoolgirl games, which still involve classic caning, are very popular in this respect. But the competition never sleeps - and if the strict private lecturer is not satisfied with the student's performance in the exam, a cock-and-ball torture with high heels may be on the agenda.

In addition to the roles themselves, the surroundings for bizarre changes and role-playing are extremely appealing to the participants: A castle with stylish lords and servants is definitely worth seeing. If the gentlemen are enthusiastic riders or have a soft spot for maids, pet play or sissification elements can be integrated at the same time. This guarantees that bizarre role-play and role-playing games will never be boring and always have one or two tingling surprises in store for everyone.