High Heels in Vienna
263 Sedcards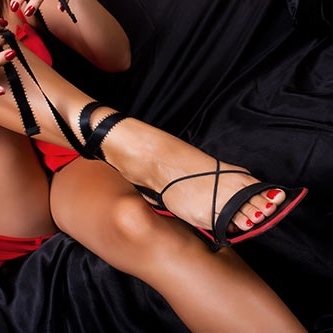 Every woman has her very own style of dress - and that's a good thing. After all, it is not least the clothes that people want to show themselves in the right light. However, everyone has individual preferences. However, there are a few pieces of clothing that almost everyone can agree on. High heels, for example, are the epitome of sexy eroticism. Both men and women know this. A correspondingly large number of shoes with high heels can be found in women's wardrobes. And these are often financed by fascinated men, especially
foot fetishists
.
When women want to go high
There is actually no lady who doesn't like high heels. For slender women, the pointed, high heels emphasize the silhouette and ensure that the feminine curves stand out. But chubby women also like to wear stilettos because they draw the eye away from the female problem areas. This makes even the chubbiest of women look elegant and sexy. Of course, high heels require a certain amount of practice, because you can quickly twist your ankle on a spiked heel, which can lead to serious injuries in the worst case. Fortunately, however, there are shoes with very different heel heights so that even teenagers can practise standing and walking in high heels.
The agony of choice
Understandably, not every woman can own all the shoes in the world - at some point, even the largest wardrobe will be bursting at the seams. Nevertheless, it is neither surprising nor reprehensible if women want to own high heels in a wide variety of designs.
The classics are, of course, the elegant stilettos in the style of the pumps, which also look chic and sexy with an evening dress. That's why almost every woman owns at least one pair of these high heels.
In summer, you can also wear open sandals, which should of course have a high, pointed heel. Not only does this allow plenty of air to reach beautiful women's feet, it also showcases lacquered toes in a special way.
Boots are often even more intricate, as it is not only the stiletto heel but also the high shaft that makes an impact. Of course, it depends on the overall height, shape, design and material. Professional ladies and women who want to radiate pure eroticism like to opt for the patent leather version that reaches well above the knee.
Ballet heels or ballet boots are among the most stylish types of high heels. These high heels, which are available in every shape from pumps to over-the-knee boots, have an extremely high heel. This ensures that the foot is positioned almost vertically, just like a ballerina. Only those who are particularly well-trained can stand or walk in these high heels. However, ballet heels are also effective when seated and can also act like shackles: some models have a locking mechanism so that the wearer cannot free herself from the shoes on her own.
What do men find so hot about high heels? A question that is difficult to answer. The fact is, however, that almost every man is fascinated by this shoe shape. That's why it's so much fun to fuck a woman wearing high heels. If she also decides to wear nice nylons, you not only have something for the eye, but also for the cloth. When it comes to BDSM, submissive men naturally also love to lick and clean the lady's high heels.