Suspenders in Vienna
227 Sedcards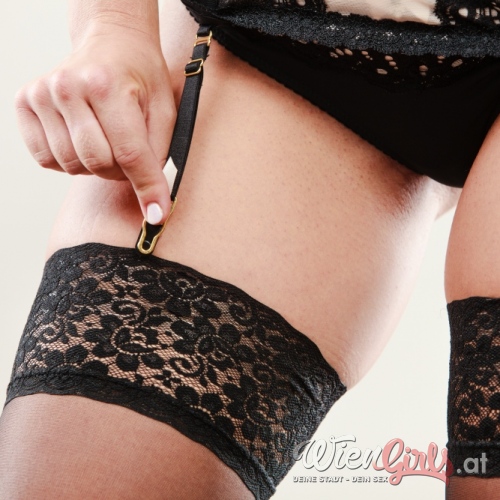 Beautiful and above all practical: when suspenders were invented, they were primarily intended to keep stockings from slipping under a dress. But when nylon tights came along, they quickly conquered women's legs: No risk of slipping and even the whole bottom was covered.
This could have quickly spelled the end of suspenders - but that was not the case. After all, both men and women quickly discovered how seductive they could be when they were not just practical, but also decorative. The result: endless variations,
from bizarre üover wicked
to incredibly ladylike. Or in other words: there is hardly a piece of clothing that puts women's legs in the right light better than suspenders.
Why are suspenders so seductive?
Partly bare legs and partly covered with delicate fabric - thanks to this mix, suspenders make both men and women want to look and caress.
While nylon tights usually fill the entire leg and lower body and often have to be taken off or torn before sex, suspenders allow direct access. Well, suspenderless stockings probably do that too. But they don't stay in place so wonderfully.
A clear plus point for the suspenders - and of course they are as vintage as they are modern: Their button-and-sew fastening principle has not fundamentally changed. Instead, there are many more body, girdle, corset and stocking models.
What would femininity be without suspenders? In contrast to the mostly sober and simple men's legwear, the versions for women often look very playful and provocative. So it comes as no surprise that suspenders and dress/skirt and high heels are the epitome of femininity. A (in-)direct promise and at the same time the expression of the ability to seduce or the desire to be seduced.

In fact, suspenders are perceived as so intrinsically feminine that even male suspenders pass as feminine, at least in terms of their legs. Excitingly, this even applies to neutral suspender models. So a potentially great playing field for all sissification fans, although there may be even more ruffles, bows and lace. Which role-playing games only really seem real with suspenders? Speaking of sissification and immersing yourself in another world for a while: suspenders don't just serve a certain purpose for the femme fatale. They are also very popular in role-playing games and are the icing on the cake of many outfits.
Just think of the extremely helpful, but on average quite businesslike secretary, who skillfully combines businesslike elegance and femininity. Or the hooker, whose "work outfit" of mini skirt and heels is rounded off by stockings. Or the nurse with her white latex stockings, which are of course also held up with suspenders.
Conclusion: Of course, suspenders are not compulsory. Nevertheless, they are perfect for enchanting both men and women and creating an erotic highlight. And who would voluntarily do without the icing on the cake for dessert?