Threesome (MMF) in Vienna
29 Sedcards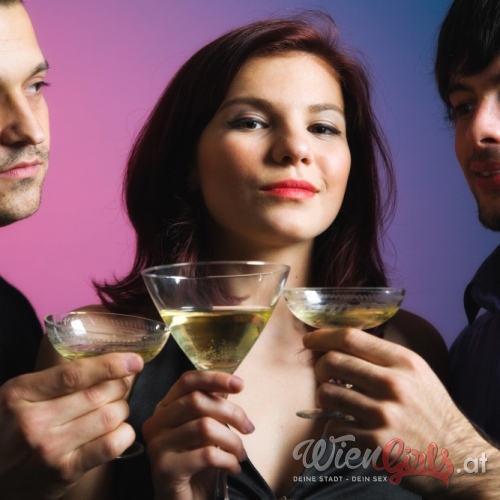 The culinary sandwich was a real enlightenment for the card player faction, as it made it possible to eat and play at the same time. And the sandwich with two men having sex also appeals to the tastes of many ladies and gentlemen. Because this is a very pleasurable way of playing with three men, in which the woman in particular gets her money's worth as a topping. Quite apart from the fact that double is often better and there are very creative sex options with two men in a sandwich.
What does the classic sandwich with two men look like? Simple but good: the classic sandwich with two men is a combination of vaginal and anal sex. While the woman sits comfortably on a man lying down, the second man penetrates her backside from behind.

To ensure that the sliding effect works, it is advisable to use a little spit or lubricant if necessary. However, if the lady is already wet enough, her own moisture is also an option. In this type of sandwich with two men, the man who takes care of her ass is usually the one who sets the pace. However, the whole thing can be swapped by arrangement.

Incidentally, a sandwich with two men doesn't just work on the bed or the floor. It is also an exceptionally hot fuck option when standing up. The basic requirement, however, is that both men are as hard as possible and have sufficient arm power. After all, the lady wants to be carried on hands in the truest sense of the word. What other sandwich variants are there? The vaginal-anal combination is basically part of the standard program for MFM lovers. Especially when the men have a big cock, this feeling alone is incredibly intoxicating.

However, a sandwich with two men becomes even tighter and hornier when double penetration in the sense of double vaginal or anal penetration comes into play. It goes without saying that the men should have no fear of touching in this case. The same applies to bi games within the stronger sex, which can also arise with such a delicious double-decker if desired. After all, nobody said that only the woman is allowed in the middle. And if you're perhaps even dealing with an enthusiastic strap-on lady, a sandwich with two men becomes extremely creative.

Speaking of creative: Of course, a sandwich doesn't necessarily have to be just two men. After all, a woman also has a mouth and two hands that are guaranteed to enjoy a hard cock or two.