Enema Therapy in Vienna
13 Sedcards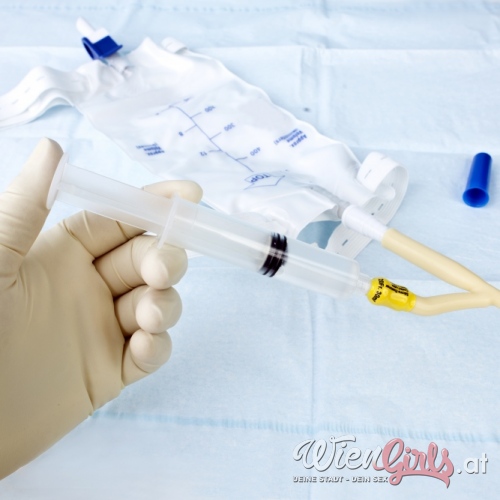 When it comes to fetish and BDSM in eroticism, there is usually a black and a white area. While the black area can be designed very differently, from a throne room to a dungeon, the white area is always set up in the style of a clinic or a doctor's treatment room. As a rule, the aim here is to provide the most detailed furnishings possible. The treatment chair, which is modeled on a gynaecological chair at the gynaecologist's, is always central in this clinic area and therefore the
gynaecological examination
can begin. Anyone who takes a seat here can look forward to a procedure that is as pleasurable as it is painful, in which enema therapy usually plays a key role.
The anal enema therapy
Enema therapy is often used in clinical eroticism to properly anally cleanse the patient. To do this, a tube is inserted into the patient's rosette, through which water or a suitable irrigation solution is then passed. The purpose of this enema therapy can be explained in three ways: Firstly, it is intended to imitate a treatment at the doctor's as intimate and not really pleasant as possible. Secondly, the patient should be able to experience intense sensations of pleasure through the enema therapy itself. Thirdly, the rectum is thoroughly freed of fecal residue, which could be irritating during a later ass fuck or anal fisting.
The enema therapy for the genitals
In addition to anal enema therapy, a well-endowed lady who knows her way around white eroticism also offers a similar treatment for the front. She will meticulously clean his balls and cock and then shape them using a cock ring. Then she inserts an enema tube into the urethra. This can be used for different purposes: On the one hand, urine can be drained from the bladder in this way. On the other hand, a skillful woman can also reach the man's scrotum to fill it with a solution. The sac almost takes on the shape of a balloon, which is associated with very intense sensations.
No enema therapy without cleanliness
And no enema therapy without specialist knowledge. This is why many ladies who offer enema therapy also have medical training, for example as a doctor or nurse. In any case, the lady must know her way around and pay meticulous attention to hygiene so as not to endanger the patient under any circumstances. Only then can the patient relax and enjoy the extraordinary sensations that enema therapy provides.