Gang Bang in Vienna
22 Sedcards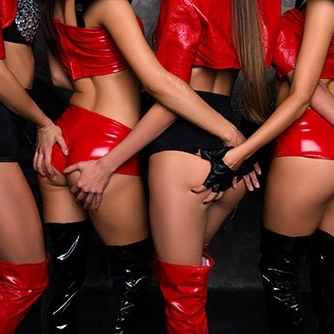 Horny, horny, gangbang. Hardly any man can escape the fascination of this game in which a woman is fucked by a whole group of men. In pornography, the gangbang is one of the most popular scenes and special themed parties are also very popular in swingers clubs. But how does a gangbang actually work?
What is a gangbang anyway?
With a gangbang, the name says it all. The term "gang" therefore refers to a group of guys, while "bang" means sex. There are generally two types of gangbang: in the first, the men literally queue up to be allowed to stick their cock in the woman's pussy. The other variant means that the woman is mounted and fucked by several guys at the same time. Terms such as "three-hole mare" are often used. The lady in question is having vaginal,
anal
and
oral fucking
at the same time. The word "two-hole mare" in this context does not mean, for example, that the lady's backside is not available for hard cock. In fact, it is usually trannies and ladyboys who only have two fuckable body openings.
Which women are into a gangbang? It may come as a surprise, but gangbang devotees can be found in all sections of society. In principle, it makes little difference whether a woman is in a committed relationship or single and looking for adventure. However, professional women belong to the group of people who are open about this pleasure, while other women are often afraid of their own courage or would not consider gangbanging out of physical loyalty. However, there are other aspects that women rate very differently. For some women, a certain level of trust is a basic prerequisite for being able to give themselves to several men for a gangbang. Others, on the other hand, take real pleasure in spreading their legs for any man and getting fucked. These differences also exist among women in the horizontal trade, which must of course be respected by men.

Is a gangbang a power play? Of course, a gangbang can be incorporated into a power game, although the signs can be completely different for a quasi-identical thing. For example, the woman who lets herself be seduced by many men can be a kind of queen of the night - of course with a correspondingly powerful aura. In this case, the men are simply love servants who are there to satisfy the lady. Conversely, a gangbang can also mean that a group of dominant men grab a submissive woman in order to make her submissive. Of course, this can only happen after prior agreement - but beyond that, nothing is being played. It is not uncommon for such a mass fuck, in which no woman's hole is left out, to end in a hot mass insemination.