Martial Arts in Vienna
6 Sedcards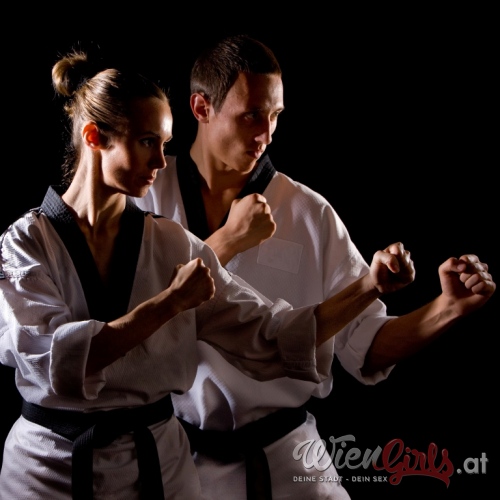 Martial arts: When it comes to this discipline, which at first glance seems more sporty than erotic, the vast majority of people think of judo, (kick) boxing or judo. The fact that wrestling is also one of the classics is quickly forgotten. However, this form of martial arts is making a big comeback in sex.

And no, it is by no means only people in the sumo wrestler format who feel addressed. Those who are fit and wiry often have a particularly good chance with erotic martial arts and quickly come a big step closer to fulfilling their lust.
Martial arts: when dominance and submission enter the ring
A clearly defined "playing field" with soft ground and maximum freedom of movement: you don't need much more for sexy martial arts.
Apart from the two main active participants, of course.

When it comes to clothing, less is definitely more - but not when it comes to massage oil or body lotion. Small disadvantage: the sporting act becomes more slippery. Big advantage: you scratch yourself less quickly, the risk of injury is minimized - and you have all hands to do with handling your opponent. So the bottom line is a clear victory for shared pleasure.

This is particularly great in martial arts when the opponents are of roughly equal strength and it is still largely unclear who will win the fight. It is therefore ideal if the opponents are of the same sex and bi- or homosexual. But sometimes you make a mistake and the woman, who at first glance seems rather unspectacular, lays the giant flat ...
The tangy climax of the martial arts finale
Martial arts with an erotic twist largely follows the classic wrestling rules. With one exception: here, it is not only permitted to touch your opponent's non-existent clothes, but even explicitly requested.

Touching, stimulating, even penetrating - all part of the program. And those who can no longer stand continue to fight while lying down - until someone gives up and lets themselves be eaten by the winner as a victory trophy after winning the martial arts battle.
Which exact grips and finger or tail games are okay and how to recognize that the opponent is defeated can of course be agreed individually. However, it should be clear who has won this round of martial arts at the latest when one is lying exhausted on the floor and no longer wants to resist the tender to hard caresses of the other.